Black History Month in Durham is always filled with a multitude of educational and fun activities celebrating the achievements of black Americans. Here's a roundup of events and activities taking place throughout the month and the rest of the year.
Special Events
Black History: Artists' Perspectives Art Exhibition | February 3 - March 10
The second annual "Black History: Artists' Perspectives" exhibition, organized by Durham artist Willie Bigelow, opens at Hayti Heritage Center with a reception to be held from 6 until 8 p.m. on February 3. Last year, 17 artists from Durham and surrounding areas presented oil, acrylic, charcoal, metal pieces, and quilts that represented their individual styles and their collective talents.
Annual NC MLK/Black History Month Parade | February 4
Featuring marching bands, step teams, dance groups, civic organizations, and more, the parade runs from noon until 2 p.m., beginning at W.G. Pearson Elementary School. The theme is "Remaining Awake Through the Great Revolution." The Divine Nine will serve as Grand Marshals.
NC MLK Black History Month Step Show Competition | February 4
Teams from historically black fraternities and sororities will compete in Spectacular Magazine's Step Show Competition after the Black History Month Parade, beginning at around 3 p.m. at McDougald-McLendon Arena on the North Carolina Central University campus,
Durham City-County Martin Luther King Jr. Observance Program | February 8
The 12th annual event begins at noon at First Presbyterian Church on East Main and will include remarks from local leaders and musical selections from the Durham City-County MLK Employee Choir.

Hayti Heritage Film Festival | February 9-11
The 23rd annual festival, presented at the Hayti Heritage Center in the historic Hayti community, showcases diverse works by and about people of African descent, focusing on short and full-length films that support the talents of rising and established filmmakers.
Cornel West Lecture | February 10
North Carolina Central University will host Dr. West, a philosopher, author, and social activist, beginning at 7 p.m. at the B.N. Duke Auditorium. Other Black History Month events at NCCU include a screening of the documentary King: A Filmed Record ... Montgomery to Memphis, among others. Click here for more information.
African and African-American Storytelling | February 11
Leigh Farm Park will host an hour of storytelling and music celebrating African and African-American culture, featuring Emmy Award-winner Willa Brigham and beginning at 2 p.m. All ages welcome.
Art Exhibit – Nina Chanel Abney: Royal Flush | February 16 – July 16
This is the first solo exhibition for Abney, a 34-year-old artist from Chicago who was identified by Vanity Fair magazine as championing the Black Lives Matter movement. The exhibition, at Duke's Nasher Museum of Art, is a 10-year survey of approximately 30 of the artist's paintings, watercolors, and collages (pictured).
Stagville Under the Stars | February 17
Historic Stagville and Morehead Planetarium will present a stellar program that focuses on the astronomy and night-sky myths and legends told in African cultures, as well as related stories told by scientists today. This event runs from 6 to 8 p.m. and is free and open to the public.
A Different Roots Story: The Cameron People of Alabama | February 18
Syd Nathans, a Duke emeritus professor, introduces his new book, A Mind to Stay: White Plantation, Black Homeland, at 2 p.m. at Historic Stagville. There will be a book signing after the talk.
Other Cultural Events in 2017
Karen Walwyn: Works by African-American composer Florence Price | March 9
Karen Walwyn, an accomplished concert pianist and associate professor in the Howard University Department of Music, performs the works of the first African-American female composer to gain national status. The concert begins at 8 p.m. in The Nelson Music Room at Duke University.
The Franklin Gallery@History | Running until May 15
Four exhibits will be displayed at Duke University's Carr Building in honor of John Hope Franklin, who was one of the most well-known and influencial scholars of his era.
Durham African-American Cultural Heritage Tour | On Demand
A motorized, professionally guided tour from Tobacco Road Tours explores the lives and accomplishments of African-American North Carolinians from the colonial period to the Civil Rights era. Destinations include the Stagville State Historic Site, American Tobacco Campus, the NCCU campus, Black Wall Street, the Durham Hosiery Mill, and the Hayti District, among many others. The cost is $59 per person, with a minimum enrollment of eight guests per tour, and tickets must be purchased in advance.
Major Annual Events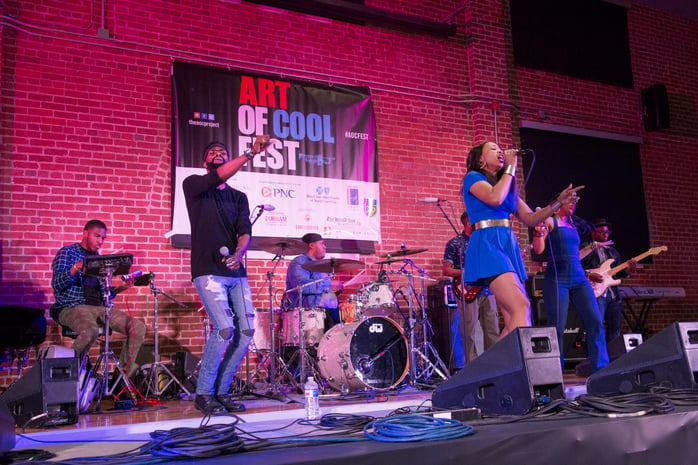 Art of Cool Fest | April 28-29
Held April 28-29 this year, the mission of Art of Cool is to present, promote, and preserve jazz-influence music. The two-day music festival will feature multiple artists performing at Carolina Theatre, Motorco, The Pinhook, and PSI Theatre, highlighted by Common's performance at DPAC.
Bimbé Cultural Arts Festival | May 20
The 48th annual Bimbé Cultural Arts Festival is family-oriented event celebrating African and African-American history, culture, arts, and traditions. It will be held noon until 8 p.m. on May 20 at Durham County Stadium Practice Field.
NC Juneteenth Celebration | June 17
The annual Juneteenth celebration, sponsored by Spectacular Magazine and the Triangle Cultural Awareness Foundation, celebrates African-American Independence Day. Visitors will find live entertainment, artists, vendors and exhibitors, and food at this outdoor fair.
Bull Durham Blues Festival | September
Every year, Durham celebrates its place in blues history with the Bull Durham Blues Festival. The two-day September event features both national and local acts, including leading artists in blues, bluegrass, and folk. Past performances include Big Daddy Wilson, Claudette King, Jimmy Haggard, John Dee Holeman, and Buddy Guy.
Black Wall Street Homecoming | October
This annual October event is an opportunity for entrepreneurs and investors to meet, discuss diversity in entrepreneurship, and learn from each other. With panel discussions and pitch competitions, Black Wall Street: Homecoming celebrates the legacy of black innovators in Durham, while bringing together the next generation of entrepreneurs.

Learn more about black history in Durham >>