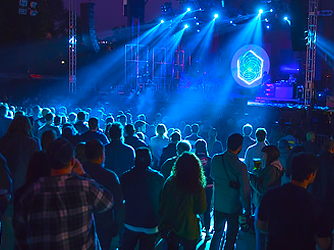 Moogfest is about the feeling.
Not just the 'good vibes,' music kind of feeling. We're talking about the feeling – the tingling in your fingertips, rhythm through the pavement beneath you, can't-stop-shaking-my-head-because-this-beat-is-so-good kind of feeling. There's another sentiment that permeates the air when Moogfest comes to town – anticipation. It's the eager expectation that what you're about to see hasn't been seen before. This gathering of innovative sights and sounds is actually a piece of history being synthesized right before your eyes… and you are in Durham for it.
We're here to show you that the meeting of musical minds will be unforgettable, but the sensory opportunities around you will be too.