Durham has no shortage of celebrated restaurants, beautiful theaters, and live entertainment venues for a traditional dinner-and-a-show date, but it's time to mix it up this Valentine's Day.

Plan a date that not only brings you closer to your partner, but also shows you a new side of the city that you both love. Here are a few unconventional date ideas for you and your loved one to try either this Valentine's Day weekend, or any night of the year!
A Handcrafted Date

Remember how your parents treasured the little gifts you made for them in arts and crafts class? Why not bring the same sentiment to your Valentine's date? Spend an afternoon at The Scrap Exchange (pictured) during Open Studio time in the Make n Take Room, where you can use basic materials to make fun gifts like a decorated picture frame, magnet, or whatever else your creativity brings to mind. In the Design Center section of The Scrap Exchange, use the hot t-shirt press to create custom t-shirts declaring your love for each other.
Go hands-on for dinner with a Durham Spirits Company cooking class. Although the only pre-Valentine's Day classes are almost all booked, there are tons of other classes available this winter focusing on cuisines like Ethiopian, Southern comfort food, and Thai.
Post-Valentine's Day, combine romance and science at the Science of Wine event at the Museum of Life + Science on February 23. Fine wine sellers, cheese makers, and chocolatiers will be on hand to explain the science behind your favorite vintages and predict the perfect pairings.
Bull City Scavenger Hunt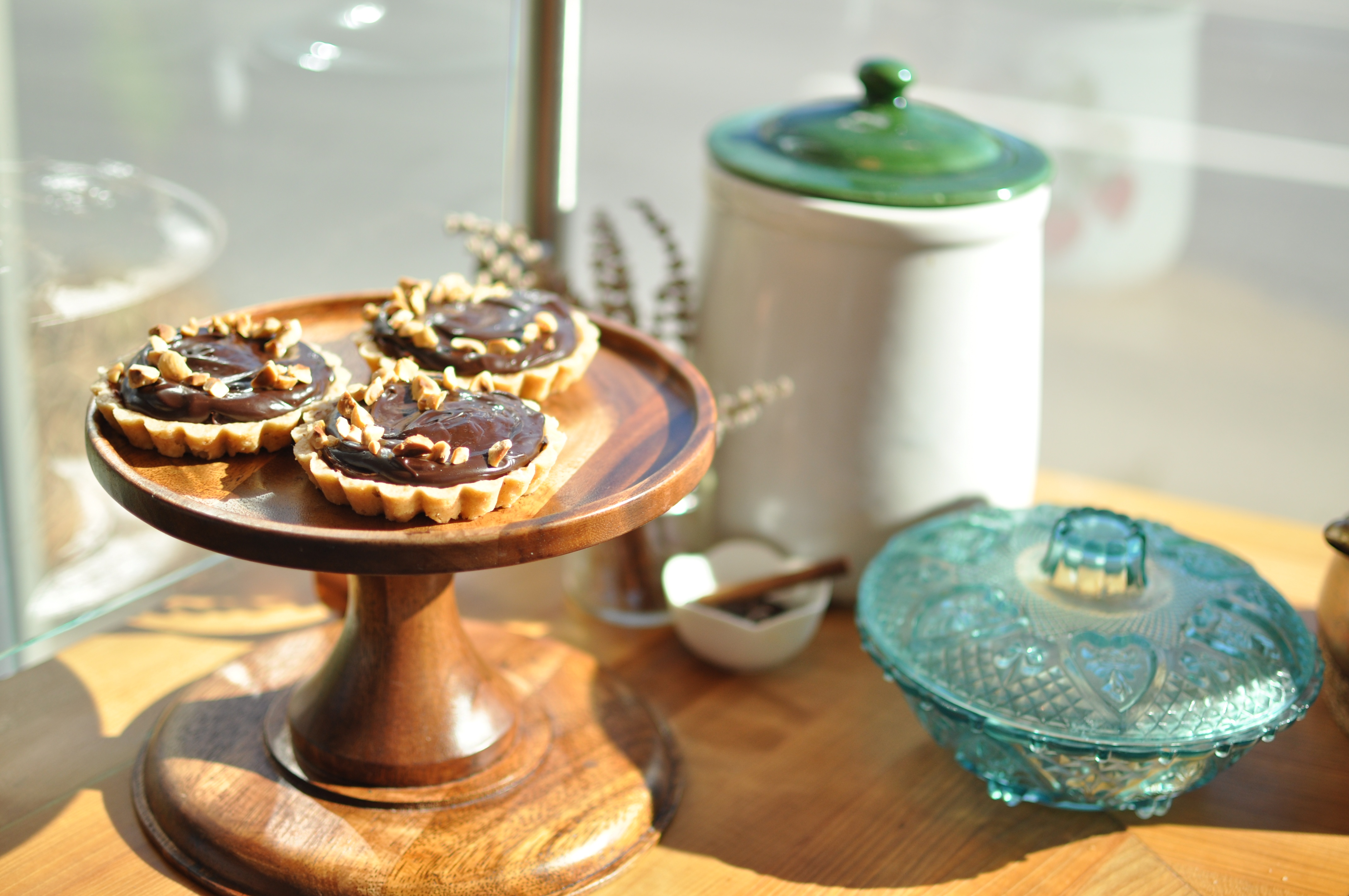 Set up a scavenger hunt for your lucky date, having them stop at cute, locally-owned shops and eateries before a surprise reunion at the end of the hunt. First, send them to Ninth Street Flowers or Pine State Flowers where they can pick up a pre-ordered bouquet of gorgeous tulips or roses and their next clue to find a sweet treat.
You can send them to fuel up on German chocolate pastries at Guglhupf Bakery, Cafe & Restaurant, or to enjoy macarons at Rose's Meat Market & Sweet Shop (pictured). After they're pumped up on sugar, it's time to head to one of Durham's fashionable boutiques to shop for a new outfit to wear to the surprise meet up. Let her choose from the gorgeous dresses, sweaters, and jewelry at Magpie Boutique, or let him snag stylish new threads at Vert & Vogue.
Finally, end the hunt at a location that means the most to you both, perhaps where you had your first date or where you first said "I love you". There, have a local photographer waiting to snap some frame-worthy shots of you and your date.
Find more boutiques for your scavenger hunt >>
Fit Fun
Stick to those New Year's resolutions, even on Valentine's Day! Burn some calories with your honey on a heart-pumping, high-activity date. Start the day at DefyGravity Durham Trampoline Park on the ultimate Ninja Course. Enjoy some healthy competition as you and your partner scale the rock climbing wall, swing back and forth on grown-up monkey bars, climb rope ladders, and try not to take a dive into the foam pit. If you have any energy left after the course, bounce around on the main jumpfloor, where trampolines extend up the side of the building so you'll literally be bouncing off the walls.
For a more relaxing activity, head to Durham Yoga Company on February 12 for a Massage for Couples workshop to ease each other's tired muscles. Couples looking for an active date that's a bit more romantic and sultry will enjoy the Bachata Sweethearts dance workshop on February 11, or the Cumbia (Latin swing dance) workshop on March 4, both held at Ninth Street Dance. On Friday nights throughout the year, you can take your sweetheart to a blues dance at Triangle Dance Studio (pictured). There's a dance lesson for the first hour, then a social dance until midnight.
Want more dates ideas? Check out the Durham events calendar >>